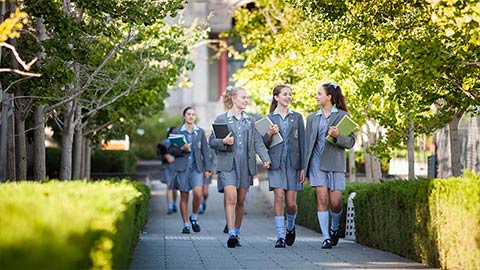 Biennial Cranlana Reunion
In what is becoming an biennial event, the St Catherine's community is welcomed to what is considered one of Victoria's finest gardens, Cranlana.
In what is becoming a biennial event, the St Catherine's community is welcomed to what is considered one of Victoria's finest gardens, Cranlana.
Cranlana is one of the few remaining gardens of its era in Victoria, with vast lawns and significant mature specimen trees. The sunken garden is a highlight, colourful shrubs, clipped conifers and hedges, water features, Italian marble statues and ornate urns enhance the beauty of this garden.
Cranlana has remained in the Myer family for nearly 100 years. Cranlana and the Myer family have a long and deep connections with St Catherine's and Lady Southey AC (Myer'45) and her family welcome the St Catherine's Family to Cranlana for cocktails and a reunion.
Our Cranlana All Years Reunion was last held in 2019 and was co-hosted by Past Parents and SCOGA Committees, was a wonderful success despite the inclement weather the October evening put on for us.
Our grateful thanks to 2020 School Captains, Sophie Boyce and Alexandra Shergold, for warmly welcoming our guests at the gate alongside the ever-reliable and enthusiastic team of Sophie Gardiner and Meredith Taylor. Our thanks also must be given to Tim Collins and the talented Brass Quartet of Year 9/10 students Rosie Bogdan, Emily Dziedzic, Emma Froomes and Lucy Keilar for entertaining our guests at the commencement of the evening. Their performance from the Cranlana terrace was bold and fabulous.
Lady Southey kindly welcomed us all along with SCOGA 2020 President, Chrissy Ryan (Graham '79), and it was wonderful to have so many Old Girls, past parents and past staff in attendance. We were delighted that over 180 guests could join us – thanks to everyone for supporting the night and making it so special.
Cranlana celebrated its 100 year anniversary in 2020 and the gardens were looking magnificent as a result of the extensive works and detailed care and attention that were in preparation of the big birthday year. We were delighted to see the fully restored Sunken Garden open to us and again we gathered in the forecourt of the home's entrance just next to the huge pin oak planted in 1934. The wide canopy and incredible structure of this stunning tree was very much admired through the night. Lady Southey recalled watching this tree being planted and slowly growing as a young girl from an upstairs window of the house.
One guest commented: What a fabulous celebration of friendship in the Cranlana garden on Thursday evening! And another guest thanking the committees with "What a delightful drinks! So very special in that gorgeous family garden setting. All was really, really nice! The four girls playing music looked and sounded great perfectly situated on the Cranlana verandah as one walked in. Specially memorable, and special, were the speeches. What a great spot for chatting and seeing the St Cath's 'family'!! Thank you to all involved." A perfect summation of the evening!
We are proud to be maintaining the strength of the School's wider community by providing a broader range of opportunities for us all to stay in touch. Our thanks to the St Catherine's Old Girls Association Committee for co-hosting this event with us. We are delighted that the reunion of past parents , past students, and past staff is becoming an annual event and we hope you will join us next time.