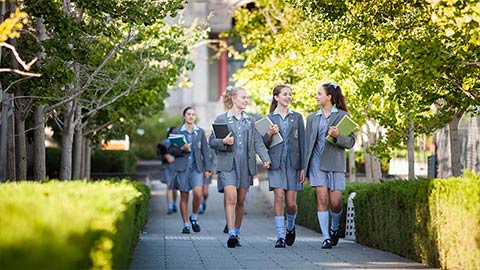 Ms Anna Pianezze
BA DipEd Melb
Head of Languages Faculty, Anna Pianezze, has taught in co-educational and girls' schools for over three decades. Anna's creativity was initially expressed through acting, working in community theatre in a range of starring roles. In 1993 she was awarded Best Actress by the Victorian Theatre Guild for her role as Claudia Draper in Nuts.
However, it is in teaching that Anna has found her true vocation. She has previously taught Politics, Australian Studies, English and Drama, yet it is French that continues to fuel her passion.
Anna's vision is to impart the value and potential of language learning for girls' futures. In her previous role, she established a comprehensive Tours and Exchange program, building student engagement and high levels of student retention.
Anna's strength as a Faculty Head has been in building pedagogical approaches for French, Japanese and Chinese staff. Her educational philosophy draws upon the Harvard Project Zero ideas, which emphasise the importance of classroom routines and learning dispositions which teach students to think. Using her extensive contemporary pedagogical knowledge (ASCD, Atlanta Georgia, Cultures of Thinking, Bialik, ACEL) she has led the professional development of staff to scaffold complex texts and develop writing skills in a second language.
Anna is driven by the desire to build students' capacities to think creatively and critically in order to apply their skills across disciplines and beyond their school years. Her passion is to bring this knowledge of the process of learning to the languages' classrooms. She has taught VCE French for two decades and is a Victorian Curriculum Assessment Authority, Oral Assessor.
Anna enjoys the challenge of contributing her educational philosophy to the St Catherine's students. She relishes their responsiveness to innovation and commitment to success in their learning.