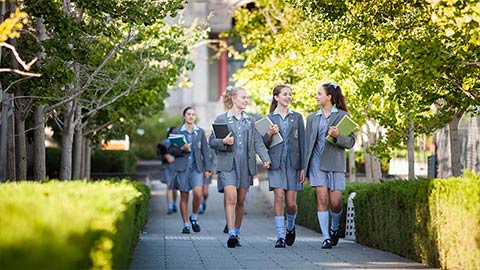 Upcoming Dates for 2020
Annual Foundation Cocktail Party

Wednesday 11 March
6.30pm – 8.30pm
Private Home in Toorak

Easter Service

Wednesday 25 March
2.00pm
St John's Anglican Church
Toorak

Senior School Musical – Freaky Friday

Thursday 30 April –
Saturday 2 May
St Catherine's Hall,
Dorothy Pizzey Centre

Indigenous Scholarships Dinner

Thursday 7 May
7.00pm – 9.00pm
Charcoal Lane

Ruth Langley Luncheon

Friday 12 June
11.30am – 3.00pm
Leonda by the Yarra

Bequest Circle Luncheon

Wednesday 12 August
12.00pm – 2.00pm
Sherren House
Drawing Room

Music Spring Concert – Interval Drinks

Wednesday 2 September
7.30pm
Sherren House
Drawing Room

VCE Art Show Opening

Friday 9 October
6.00pm
St Catherine's Hall,
Dorothy Pizzey Centre

Jeanie Hood Society Dinner

Thursday 12 November
7.00pm – 9.00pm
Secret Venue

Christmas Carol Service

Friday 4 December
11.00am
Toorak Uniting Church
Annual Celebration and Thank You Evening
As the hallmark annual event, the evening is the opportunity to recognise and celebrate Foundation members' contributions as well as providing an occasion to re-connect.
2019 Celebration at the Terracotta Warriors and Cai Guo-Qinag Exhibition, National Gallery of Victoria
2018 Celebration images at the La Trobe Reading Room, State Library Victoria
2017 Celebration images  at the Van Gogh Exhibition, National Gallery of Victoria
We look forward to seeing you at our 2020 event.
Foundation Breakfast
A new event providing an exclusive forum showcasing a high calibre speaker over breakfast.
Breakfast with The Hon. Julie Bishop MP Friday 22 February 2019 image gallery
Barbreck Junior School Official Opening
It was our pleasure to provide an Advance Tour of the new Barbreck to our Her Future Begins Here and Foundation members.
Advance Tour gallery
Official Opening Tuesday 26 February 2019 image gallery
Edna Holmes Centre for Science Laboratories Upgrade Official Opening
Thank you to all our supporters through the Her Future Begins Here campaign.
Official Opening by Dr Jane Goodall DBE, Friday 10 May 2019 image gallery
 Bookmark her Future Unveiling
The Bookmark her Future art installation recognising literacy, reading and the significant support of our community was unveiled by children's author and alumnae Kim Kane ('90) on Tuesday 16 October 2018.
Bookmark her Future

Bookmark her Future

Bookmark her Future

Bookmark her Future

Bookmark her Future
Jeanie Hood Society Annual Dinner
The Jeanie Hood Society, named after our founding Principal, is our highest level of membership. Members of the Society are invited to an annual dinner and briefing with the School Council Chair and Principal. It was wonderful to welcome Jeanie Hood Society members to our 3rd annual dinner on Thursday 18 October in the Selina Yao Auditorium, Barbreck Junior School.
Jeanie Hood Society Dinner 2018

Jeanie Hood Society Dinner 2018

Jeanie Hood Society Dinner 2018

Jeanie Hood Society Dinner 2018

Jeanie Hood Society Dinner 2018

Jeanie Hood Society Dinner 2018